Membership
Our membership is open to anyone with an interest in the textile industry. Membership would suit you whether you are from a manufacturing, technical, or design background, or from the winder industry.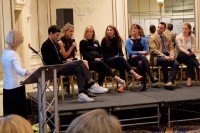 By joining the Huddersfield Textile Society, you will instantly be part of a professionally diverse network of national and international companies as well as local members.
Our programme of events and visits will provide you with networking opportunities, and the chance to access the latest developments in the industry.
Our membership is open to individual or corporate members:
£60 for Corporate Membership (over 200 employees)
£40 for Small Company Membership
£12 for Individual Membership
If you would like to join the Huddersfiled Textile Society simply download our membership application form (pdf format) and send it to Bruce Calverley (Honorary Treasurer) along with the appropriate subscription. Subscription fees can also be paid directly by following the instructions on the application form.