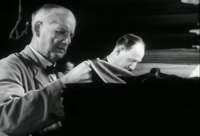 Our December lecture saw a return to the format of programming a lecture with a historic theme for this pre-Christmas event.

Ian Baxter, Committee member and keen historian kindly put together an excellent evening of historic film focusing on the life of a local family employed in the local textile industry in 'We of the West Riding'.
This was followed by 'All's Wool That Ends Wool' - a promotional film put together in the 1960's to extol the virtues of the fibre.
It was amazing to see the number of factory chimneys, symbols of the might of wool at this time, and also to get a black and white tour of the landscape of that era.
We had an impressive turnout, a buffet that disappeared fast and a thoroughly entertaining evening reliving the Textile past of the region.
Ian's passion for our local heritage came across clearly in his presentation of this topic and the audience's love of popcorn was clearly heard in the rustling and munching during the intermission!