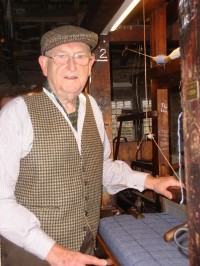 Past Huddersfield Textile Society president Ian Baxter is shown wearing the waistcoat woven on a handloom by several volunteers at the Colne Valley Museum, where Ian is also a volunteer.
He says this is the first design he's done since the days of his City & Guilds training in 1958.
Woollen yarn was provided courtesy of Brierley Bros and finished by Johnsons of Moldgreen.
Find out more about Colne Valley Museum.