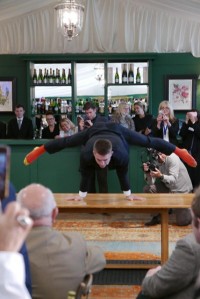 Max Whitlock demonstrated the durability of anti-crease wool suits.
The Campaign for Wool continued its promotional activity with the first ever Dumfries House Wool Conference, complete with speeches from The Prince of Wales and Sir Paul Smith, and a spectacular demonstration by double Olympic gold medal-winning gymnast Max Whitlock.
The event, sponsored by M&S and nicknamed 'The Davos of Wool', was attended by around 250 wool trade delegates from around the world, including former Huddersfield Textile Society President Stephen Sheard.
Delegates heard speeches from M&S CEO Steve Rowe, President of Conde Nast International Nicholas Coleridge CBE, Eco-Age founder Livia Firth and The Savory Institute President Allan Savory.
Sir Paul Smith's speech was a particular highlight and the designer's usual show-stopping performance was crowned by a surprise demonstration of the durability of his anti-crease wool suits by Max Whitlock.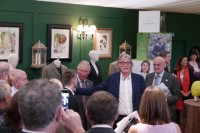 Sir Paul Smith entertained the Conference.
The Prince of Wales, who is Patron of the Campaign for Wool, told delegates - who included representatives from major retailers, shepherds, growers, farmers, designers from the worlds of fashion and interiors, traders, processors, manufacturers, retailers, environmentalists and politicians - that he was encouraged by the progress being made by the wool industry.
HRH said: "In general terms, wool prices are higher; sheep numbers are stable in most markets; designers are using more wool and there is a greater appreciation of wool's many excellent qualities.
"And all that has led to generally higher morale in the wool industry. So despite some remaining storm clouds and challenges, the overall picture is considerably positive."
The Conference concluded with the signing of The Dumfries House Wool Declaration, a commitment by key industry players from farmers to retailers to protect the environment and uphold the best possible practices for sheep welfare, commerce and industry.
Click here to read The Dumfries House Wool Declaration