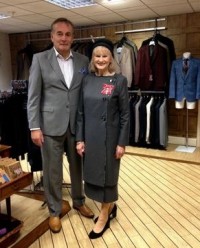 Christine Wilkinson with Chris Antich of C&J Antich & Sons.
Christine Wilkinson, former President of Huddersfield Textile Society, used her MBE investiture to promote the industry by wearing an outfit made by local companies.
Chris was made an MBE in recognition of her services to the textile industry and on learning of the award, she set about ensuring she showed off the best Huddersfield firms have to offer when she received the honour from Prince Charles.

C&J Antich & Sons of Bradley made a prestigious, superfine merino worsted fabric, complete with Signature Selvedge, for the occasion. The company's managing director Chris Antich was particularly pleased to help, as he is one of her former students.
W.T. Johnson & Sons of Moldgreen finished the fabric with a luxurious, crushed, truly feminising effect.
It was then tailored by Margaret Lambert, a former colleague of Chris's at the University of Huddersfield, to create an elegant outfit with the 'Made in Huddersfield, Yorkshire, by C&J Antich and Sons' selvedge exposed.
Chris added a matching pill-box hat from Elizabeth Gales of Kirkburton to complete the outfit.
During the investiture, Chris chatted to the Prince of Wales about her work with the Campaign for Wool, of which he is patron.
Congratulations to Chris from everyone at HTS on this fully deserved honour.
Thanks to The Huddersfield Examiner for use of the image.