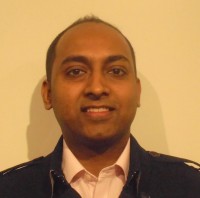 The Society's December lecture was delivered by Hareesh Kallambella, Senior Production Manager at Burberry Mill, who rewarded the audience with a lively and thought provoking talk.
Addressing the ever-present challenges faced by the manufacturing sector in achieving fast turnaround, improving quality and managing data, he introduced us to some of the key solutions that Burberry has implemented.
The iconic Burberry trench coat is at the core of the brand and hence the gabardine fabric (as worn by Shackleton on his expeditions) is the focus of manufacturing at Burberry Mill in Keighley.
Burberry invests in the ideas of its staff at all levels of the business and in reference to the Industry 4.0 trend, is adopting Artificial Intelligence to drive change and create transparency throughout the mill.
Digital connectivity allows staff to take a preventative or predictive approach to quality assurance as well as routine maintenance of equipment, resulting in a 10% improvement in capacity.
Hareesh very cleverly engaged the audience through the use of an online quiz (digital of course!) to check out understanding of how Burberry has focused on productivity and care for its supply chain.
He rounded off his talk with information on how the mill is fully invested in training the next generation, through its apprenticeship scheme and opening the doors to local schools for Inspiration Days.
Thanks to Hareesh for taking the time to talk to Society members about the exciting developments at Burberry.