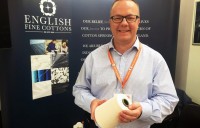 Andy Ogden, general manager of Culimeta Saveguard, opened the Society's lecture season in September and impressed the audience with his passion for bringing back fine cotton spinning to the UK.
Already employing 100 people, English Fine Cottons invested - with the help of the Textile Growth Programme - over £5 million to convert an old mill in Dukinfield into a state of the art, end-to-end spinning plant.
They are the last short staple cotton spinner in the UK, but Andy outlined their heavy investment in R&D and the importance of building close partnerships with high-end retailers.
The company has registered the name 'Britspun' to highlight the fact that this product is spun in the UK. They aim to produce up to 1,000 tonnes of yarn per annum, which is the equivalent of 0.2% of UK cotton imports.
Andy also highlighted the importance of developing new skills in this sector through apprenticeship schemes, as we will rely on the next generation to be trained and become interested in the textile industry.
Thanks to Andy for taking the time to speak to Society members about developments at English Fine Cottons.