Livery Companies were asked to put on an exhibition for secondary school pupils in the London area to show the crafts and skills which the companies were renowned for.
The Woolmen were approached and Bill Skidmore, former President of Huddersfield Textile Society and the current President of The Bradford Textile Society, organised the creation of a stand in conjunction with Woolmark.
Bill's role was to show the path wool takes from sheep to products, with an emphasis on our companies in West Yorkshire, such as Westex Carpets, Camira and Howarth Scouring. We had examples of these companies' products.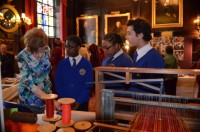 Sheep to Fabric was aimed at Secondary School pupils, telling the story of how fleece gets from the sheep, through different processes, like scouring, carding, spinning, weaving and knitting and made into different products.
The pupils were encouraged to take a hands-on approach, not just looking, but trying some weaving, touching both the greasy wool and the scoured, clean and soft fibres. They viewed fabric and fibres through a microscope, saw the transition of how a design was accomplished from initial source material, through development stages to finished fabric.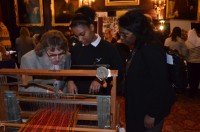 Both pupils and staff were extremely interested in getting involved and experiencing a side of textiles not normally seen by the consumer. Pupils had tended to think of wool as being a 'thick' yarn, but were amazed at the very fine counts used, for example, in evening wear.
Links were made with schools to build a close relationship and contact with careers staff.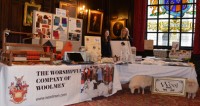 Bill's part of the stand was more upholstery/carpeting, (with a bit of apparel- suiting and knitwear), while Salina from Woolmark concentrated more on the fashion side.