The Huddersfield Textile Society is delighted to announce its four Graduate Prizewinners of 2017.
Former Society Presidents Stephen Sheard and Chris Wilkinson judged the students' work and the winners were announced at Preview Night for the University of Huddersfield, Art, Design and Architecture Final Show on Friday 15th June 2017.
Awards were made in the following categories:
Creativity and Innovation in Design (Weave)
1st Prize: Katy Longstaff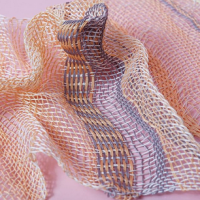 Textiles with Surface Design – 2017 F r e e P l a y - Interchange.
'We are never more fully alive, more completely ourselves or more deeply engrossed in anything than when we are at play' - Charles Schaefer
Click here to see more of Katy's work
Creativity and Innovation in Design (Print)
1st Prize: Thomas Greenwood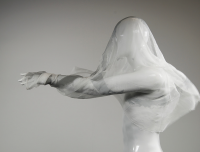 The sensitised pellucidity collection explores the desire to regain balance between privacy and transparency looking at elusive spaces and being translucent in new ways; suggesting a new sense of truth with the fusion of industrial and organic; finding calm in the mist of destruction; signifying the release of life anxieties.
Click here to see more of Thomas's work
Creativity and Innovation in Design (Knit)
1st Prize: Kathryn Lund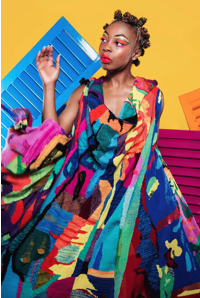 Colour Regeneration explores the abandoned surfaces within urban areas focusing on the rejuvenating power of colour. The influence of colour is pivotal to the reincarnation of the lost and forgotten textures; which have a strong translation through to the knitted pieces which utilise both conventional and less traditional yarn.
Click here to see more of Kathryn's work
Best Use of Creative Textiles in Fashion and Costume (all costume students)
1st Prize: Natalie Day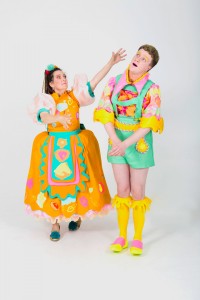 For her final major project Natalie wanted to create fun contemporary costume for a staged production of the traditional tale Hansel and Gretel, taking inspiration from the idea of childhood nostalgia.
"Applying an experimental and playful approach to design work and working from fiction really freed me up - my approach, my drawing, everything took on a childlike quality. My colour pallet began to resemble retro colour blocking alongside my design work which became very current and trend led forming garment drawings that were extremely abstract," Natalie explained.
The finished costumes represent Hansel the overexcited gluttonous young adolescent who loves a frill and a bold zigzag. His costume is a contemporary take on traditional lederhosen created exactly as designed, using a continuous line technique and creating unusual askew shaped garments.
Hexe's costume is supposed to both entice and revolt the viewer in response to her attempts to lure in children to eat. The bulbous shapes, garish colour and layers used should create a sense of sweeties all wrapped up, bringing to life this bittersweet character.
"My colourful costumes are created in the hope of bringing the fun childish nature of the tale to a contemporary audience engaging and reminding all ages of the importance of fairytales and their morals, don't take sweets from strangers is a phrase I remember whenever I think of the enchanting gingerbread house and the awestruck infamous greedy pair," said Natalie.


Congratulations to all of this year's graduate winners.