We are pleased to welcome the new President of Huddersfield Textile Society, Richard Brook, who commenced his two-year term on 9 July 2018.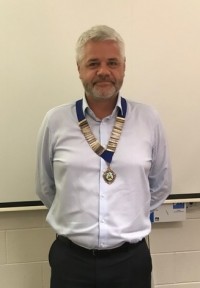 Many of you will already know Richard, who has a long involvement in the textiles industry in the local area and is now Managing Director of Wooltex UK.
Richard's association with textiles began in 1989, after he saw an advert for jobs in the sector placed by the Huddersfield and District Training Centre. It was here that he started on the YTS training scheme, with day release studies at what was then Huddersfield Polytechnic, going on to achieve a BSc (Hons) in Textile Technology.
His first job was as a Laboratory Technician at Courtaulds Woollens before moving to John Crowther & Sons to work as a Textile Technologist.
Then, after 10 years as a Technical Manager at Louvolite Ltd, Richard was offered a position at Wooltex UK: an independent, family-owned business that designs and manufactures contract upholstery fabrics.
He quickly rose through the ranks, first being appointed Technical Director, before being promoted to his current role as Managing Director. He is also currently a Director of the Textile Centre of Excellence.
Richard is honoured to have the opportunity to maintain the high standards and enthusiasm shown by our previous President, Nicola Redmore. Textiles have been Richard's life's work and professional passion for nearly 30 years, and we are delighted to welcome him to Huddersfield Textile Society.
If you would like to join the Society, or find more information about our membership options, please click here.