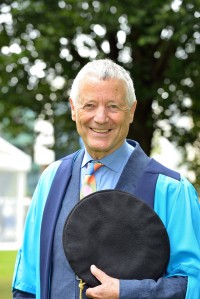 Kaffe Fassett was awarded an Honorary Doctorate for services to textile design and craft.
Kaffe Fassett, the internationally renowned contemporary craft designer who has dedicated the last 50 years of his life to the world of Knitting, Needlepoint and Patchwork, was awarded an Honorary Doctorate by the University of Huddersfield on 12th July 2016.
He delivered an inspiring lecture to the Huddersfield Textile Society and undergraduate textile students, hosted by the University of Huddersfield, in 2015. In it he encouraged the students not to be afraid to fill their work with colour and to celebrate the scale and textures found in the local landscape of West Yorkshire.
Kaffe started out as a fine artist, having studied at The Boston Museum of Fine Arts School and he still continues to exhibit his paintings.
After settling in England in the mid-1960s, his passion for colour led him to start knitting and then designing knitwear for Missoni and Bill Gibb amongst others. He later took up needlepoint and patchwork, creating both his own works and designs for others to make, working with local company Rowan Yarns based in Holmfirth.
His hand-knitted garments are now in museum collections all over the world, and Kaffe dedicates his time to running the Kaffe Fassett Studio, as well as holding knitting, needlepoint and patchwork workshops around the globe.
Kaffe has continued to be based in the UK, and tours the world, hosting museum and gallery exhibitions to inspire others to have a go at creating textiles themselves. He is a Patron of the Quilters' Guild of the British Isles, Patron of the UK Knitting & Crochet Guild and also the Heritage Crafts Association.
In 2013, Kaffe was awarded the Turner Medal. This is awarded by the Colour Group of Great Britain to a distinguished artist or art historian, honoring Britain's greatest colourists.
Watch Kaffe discuss his career, his love for colour and why we shouldn't be afraid to use it to be creative, in this interview filmed after he received his award.