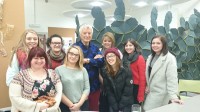 Kaffe Fassett meets a group of second year knit students at the University of Huddersfield.
Kaffe Fassett, the international artist and textile maestro, delivered an inspiring lecture at the University of Huddersfield on Monday 16th February to an audience of 250 fashion and textiles students, members of the Huddersfield and Bradford Textile Societies, and craft enthusiasts.
The lecture featured 150 pictures of his work in knitwear, tapestry, painting and printed fabrics, shots from his books on quilting and patchwork, plus images from his constant travels around the world. He also showed his source material and some of the places and artefacts that inspired his work.
Kaffe talked with genuine enthusiasm about his life of colour and the thinking process behind his work to help students, professionals and craft hobbyists with their design and creative processes.
Earlier, Kaffe spent some time with the knit and weave students at the University's Fashion and Textiles department, going through their project work and making helpful suggestions.