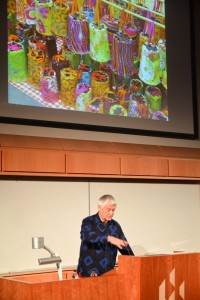 Kaffe Fassett delivers his lecture in front of an image of printed fabric lanterns used to promote his recent exhibition at The American Museum in Bath.
Students inspired by world-renowned artist, designer and author Kaffe Fassett's visit to the University of Huddersfield had a go at 'yarn bombing' one of the bridges on campus in his honour.
'Yarn bombing' is a type of non-permanent graffiti art that uses textiles to decorate the urban environment and Kaffe is sure to have approved of the students' efforts and use of colour.
In an event jointly organised by The Huddersfield Textile Society and the University, the California-born artist delivered a lecture titled 'Inspiration In Colour' to an audience of students, Society members and craft enthusiasts on February 16th 2015.
After being introduced by his friend and collaborator Stephen Sheard, the President of the Society, Kaffe spoke about his love of colour, the inspiration he has taken from his travels around the world and his creative process.
He also revealed that since moving to the UK in 1960, he had come to realise that grey was "the most subtle, unbelievable colour in the world".
‌"When I first came to England I had to get very used to grey! But I now realise that it is very beautiful. I love the softness of English light. You can see colour so much better," he enthused.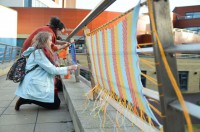 Textiles students marked Kaffe Fassett's visit with some yarn bombing.
Kaffe's lecture featured a large selection of images, including photos from around the world, illustrations from his books and pictures from his studio and exhibitions. He used them to demonstrate how it was possible to find inspiration for colour in everything from Moroccan quilts to weathered manhole covers.
He also revealed how impressed and excited he had been by the textile design students he met at the University before delivering the lecture. "It was great to see all the flames that will be fanned into careers," said Kaffe.
Following a Q&A session with the audience, Nicola Redmore, the Subject Leader for Textiles at the University of Huddersfield, thanked Kaffe and summed up the positive mood, telling him: "We have had a fantastic day with you and we are really inspired."
Find out more about Kaffe Fassett and his visit to Huddersfield by watching the interview below: