The Making it in Textiles 2015 conference took place in Bradford on October 20th and 21st, offering undergraduates an insight into working in the industry.
The event, chaired by Cheryl Kindness, aimed to attract the best young textiles graduates from our Universities into the UK textile sector.
It saw 125 final-year undergraduates selected from 25 universities to enjoy two days of lectures, Q&A's with experts and mill visits.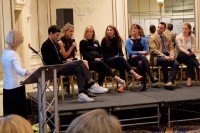 Q&A's with experts helped students understand more about the UK textile industry
Speakers at the event included:
Kirsty McDougall - Co-founder, Dashing Tweeds
Beryl Gibson - Textile Consultant
Stephen Sheard - former MD and founder of Rowan Yarns
Richard Humphries - Director, Humphries Weaving
Gary Eastwood - Managing Director, Pennine Weavers Ltd
Paul Johnson - Managing Director, W.T. Johnson & Sons
Patrick Grant - Creative Director, Norton & Sons of Savile Row
Sheila-Mary Carruthers - Carruthers Associates
Making it in Textiles 2015 was sponsored by: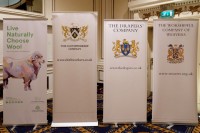 The Campaign for Wool
The Clothworkers Company
The Drapers Company
The Worshipful Company of Weavers
The sponsors have also offered bursaries for successful applicants.