HTS member and weaving designer Jane Eastwood reports back from a high profile conference to help young people in the textile industry find jobs and explore career prospects.
Making it in Textiles Conference and Mill Visits, 14th - 15th October 2014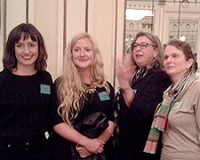 Ruth Greany, Kirsty McDougall, Philippa Brock and Emma Sewell at the Making it in Textiles Conference and Mill Visits*
This is the first year that The Campaign for Wool, The Clothworkers' Company and The Weavers' Company have organised an event of this kind. Peter Ackroyd, President of IWTO, gave an optimistic forecast for those looking to progress a career within this booming industry and gave us an insight into his work with the Campaign for Wool and his historical and current global connections with the promotion of wool as a sustainable, biodegradable fibre.
120 representatives from final year textile degree courses attended this free conference. Their tutors had selected those students who would most benefit from the opportunity, particularly those looking for employment in the industry after graduation.
This can be anything from technical and practical jobs to design and management. They were welcomed in grand style to the 'Making it in Textiles Conference and Mill Visits' held on 14th-15th October 2014, at the Midland Hotel,Forster Square, Bradford.
James Sugden, Conference Chair, said: "There is a skills and talent gap in the industry. The UK industry is experiencing a resurgence and this is creating jobs. However, there are only a finite number of pure design jobs available.
"Textile companies need young people with a range of skills who are interested in building on their design expertise to work in areas such as manufacturing and quality control.
"The idea of holding such a conference came from the feedback from course tutors, who said that students no longer had the opportunity to learn about the textile industry first-hand by talking to manufacturers and seeing industrial production."
During the event, they heard from a number of experts who work in the sector. The students were taken on a journey through colour, dyeing, yarn spinning and designing fabric to weaving, fabric production technology and fabric finishing.
This was followed by a useful question and answer session hosted by Cheryl Kindness, of Camira Fabrics. She captured the general optimism generated by the speakers, who all spoke with passion about their specialist areas of the textile industry. Cheryl expressed enthusiasm for young people to be proactive in getting involved directly with physical 'hands-on' manufacturing skills to gain invaluable experience in this growing textile industry.
A drinks reception and dinner followed, during which the students had the opportunity to network with the speakers, mill representatives and students from the other institutions. The evening concluded with an excellent inspiring keynote address by Victoria Stapleton, Founder and Creative Director of Brora, on 'Making Things Here'.
The following morning, the coaches were waiting to take the students to one of the designated mills for their first-hand experience of industrial processes.
This was something waiting to happen for many years and thanks to many people and the sponsors it was possible. For the students too, it was wonderfully informative and I hope it happens again. I really enjoyed hearing all the speakers, making contacts, seeing the people I knew already in textiles and also talking to the students in the fabulous atmosphere of excitement and enthusiasm. What an opportunity they have had! Let's hope that it encourages them to take their skills forward to enrich the industry.
The mills that kindly opened their doors:
Speakers who kindly gave up their time:
Finally, thanks to James Sugden, Conference Chair, and Chairman of The Weavers' Company Textile Committee, Abby Wright-Parkes, the Conference organiser, Angela Swan for her support, The Weavers' Company Textile Committee and Lauren Keating from www.thisismission.com.
www.wool.com www.clothworkers.co.uk www.weavers.co.uk www.campaignforwool.org
*The photo with this report features:
Useful Resources
Student Textile Competitions
Bradford Textile Society Design Competition – entries must be submitted no later than 13th March 2015.
www.bradfordtextilesociety.org.uk - John Lambert - john@bradfordtextilesociety,org.uk
Texprint - 24 students chosen each year.