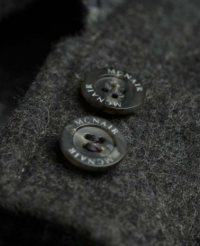 The Society's February lecture was delivered by Richard Hamshire, co-founder of Slaithwaite-based McNair Shirts, who engaged with an enthusiastic audience keen to learn about the creative development of the company's global niche brand.
We were introduced to the non-plastic mountain jacket, inspired by a classic pair of Austrian woollen Dachstein gloves.
Boil-in-the-bag skiwear this is not, but rather a 100% Merino wool made-to-measure mountain shirt where every stage of the manufacturing process takes place within 10 miles of Slaithwaite.
The appeal of these contemporary-styled felted shirts, however, extends its reach to global superstars and Olympic medal winners, as well as the passionate outdoor sports enthusiast.
The internet has allowed this business to develop a new type of luxury brand built on one quality product, but one that embraces an open mind to creativity.
Richard also introduced the audience to Robert Dilts' modelling of Walt Disney's strategy for turning dreams into reality.
Working in pairs we used a specific thinking flow that builds parallel thinking to generate, evaluate and critique ideas, and to solve problems.
Richard believes we can all be creative thinkers and this ethos is at the heart of the McNair brand.
Thanks to Richard for taking the time to speak to the Society about McNair Shirts' products and creative approach.
Click here to find out more about McNair Shirts.