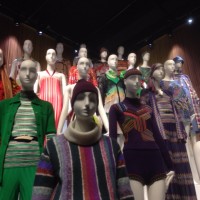 The exhibition is the first of Missoni's textiles in the UK.
Missoni, the world-renowned fashion and knitwear family, has opened its first UK exhibition at the Fashion & Textile Museum in London.
The show explores the creative process of the Italian fashion house and the textiles designed by Ottavio and Rosita Missoni over the last 60 years.
In addition to fashion looks sourced from the company's archive and textile studies by Ottavio Missoni, the exhibition features a selection of paintings by 20th century European artists who influenced the Missonis as they developed their signature graphic style.
Missoni Art Colour runs from 6th May to 4th September 2016 at the Fashion & Textile Museum, 83 Bermondsey Street, London, SE1 3XF.
Click here to find out more about the show and for details of ticket prices.