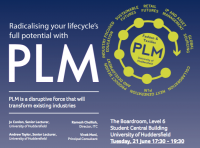 Huddersfield University is delighted to announce a Fashion and Textile Business networking event on the evening of 21st June.
This event is intended for local businesses to learn more about PLM and its potential to improve profitability, agility and compliance.
Further details and the link for registration can be found on the accompanying flyer (click here to download).
Information can also be found on the Inspired Huddersfield website and you can register for the PLM session now at Eventbrite.
We look forward to seeing you on campus for this event and others during the 2016 Inspired Huddersfield festival.