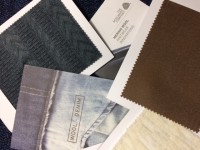 The 2017 White Rose Lecture was delivered by Rebecca Kelley, European Product Marketing Manager for The Woolmark Company on October 9th.
Rebecca introduced us to the Woolmark Company, and the guarantee of quality associated with their mark and gave us an introduction to their global initiatives to promote Merino wool.
They have key collaborative partnerships with major brands including M&S and Next, as well as developing concepts with newer niche brands and progressive textile and fashion companies.
We were provided with an excellent insight into the educational work that the Woolmark Company provides; from education packs for schools, through to their provision of Wool Innovation centres helping to develop knowledge and skills for the industry.
We were particularly inspired by Rebecca's presentation of the latest trends and technical developments for wool.
The Woolmark Company are actively involved in the developing trends of wool use for footwear, seamless flat-knit, fully fashioned warp knit, wool denim, and wool fill (for insulation).
They are also perusing development of new technologies to reduce energy consumption, promote sustainable practice, reduce water in dyeing, to develop smart and interactive textiles, 3d printing and plasma finishes to modify the scale structure of wool.
Rebecca is keen to reconnect with the manufacturers in West Yorkshire to explore new processes and products as well as forming stronger links with the next generation of graduates to educate them in the wonderful world of wool.