Bill Skidmore, former President of Huddersfield Textile Society and the current President of The Bradford Textile Society, recently took part in the Science Council's STEM From The City event, which was designed to promote STEM subjects to secondary school pupils.
The Fit for Purpose by Bill Skidmore Design stand at the exhibition at the Guildhall in the City of London showed how important testing is in textile production.
It included a demonstration of the flammability potential of childrenswear. A video was produced of toddler's clothing caught by a single candle flame and burnt in 15 seconds. The toddler's party dress in Polyester self-extinguished, but the molten drops could have caused severe burns.
The exhibit also showed the importance of wash and light fastness on apparel and furnishing fabrics, the effect of different light sources with metameric samples under daylight and tungsten lighting, abrasion testing results and antimicrobial finishes to fabric.
In addition, it showcased less obvious technical developments in textiles, from wool insulation for dwellings to fibres like carbon, glass and basalt used in technical advanced textiles for aerospace and Formula One cars.
The pupils and teaching staff were amazed and enthralled at the examples of these fibres and products not normally associated in their minds with textiles. Even the Lord Mayor, Ms Fiona Wolff, was fascinated by the diverse range of textiles.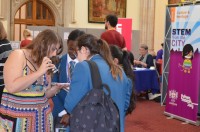 Companies including C&J Antich supplied examples of 3-D weaves and machine parts that had been woven compared to machined aluminium and steel.
Camira supplied examples of transport fabric along with antimicrobial fabric, which was used for an experiment in which this a range of fabrics were tested to demonstrate that those that had not been treated which grew mould. The pupils could look for 'invisible' stains and other fibres with the aid of an ultraviolet light source. They could also experiment with abrasion and crocking tests.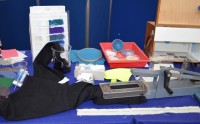 The exhibition was intended to encourage pupils, especially girls, to understand how science subjects could lead to employment and looked at avenues via further education and apprenticeships, without (in some cases) going to university. The Textile Centre of Excellence supplied information regarding routes to apprenticeships and the SDC helped with a banner and other exhibits.
Two students, Huddersfield Textile Society member Julia and new University of Huddersfield graduate Adriana assisted at the exhibition.