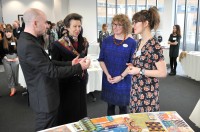 (l-r) Kevin Almond, The Princess Royal, Nicola Redmore and an undergraduate showing her work.
The Princess Royal visited the University of Huddersfield on Friday January 23rd to open the new Student Central block and to see work by undergraduates from the Fashion and Textiles Department.
She viewed a display that featured work by eight students in the final stages of fashion and textiles degrees, which showcased a range of designs that used both new and traditional techniques.
The Princess Royal was accompanied by Senior Lecturer Nicola Redmore, the subject leader for Textiles, Vice-Chancellor Professor Bob Cryan and the University's Head of Fashion and Textiles Dr Kevin Almond as she inspected the work.
A group of VIP guests representing companies, textile bodies and agencies that have close links with the department were also present.