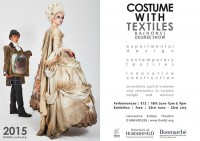 Join the students from the University of Huddersfield's Costume with Textiles BA as they celebrate their graduation with a parade of outlandish and beautiful designs.
From Gaiman to Wagner, Henson to Hugo, costume creations from the world of fiction come to life before your eyes. From sketch to stage, the students will conjure an eclectic cast of characters to surprise, delight and enchant.
The event takes place at the Lawrence Batley Theatre on Thursday June 18th 2015. Further details and ticket information can be found by clicking here.