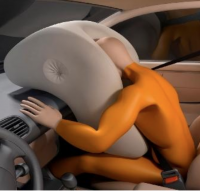 Hugh Finn, Research & Development Manager of Autoliv, joined us on 6th November 2017 to share how the company uses textiles to help save lives.
Autoliv still weave in the UK and have 150 Airjet jacquard looms at their site in Congleton in Cheshire. Drawing in more power than the whole town, they have developed smart ways to reduce and reuse their energy in the production of these highly-crafted and unexpectedly beautiful airbags.
Hugh gave the audience a very detailed presentation on the success of Autoliv and more specifically a focus on their One Piece Woven airbag technology.
Weaving predominantly nylon in interchanging double-plain constructions, each car model requires a finely-tuned version of the surprisingly vast array of their passive safety products including: airbags for the driver, side curtain, knee, lumber, passenger and even for the pedestrian.
They weave 1,000 metre pieces, and have engineered silicone coatings that allow their product to perform under the explosive conditions of an inflation time of less than 20 milliseconds.
We were impressed to learn about the complexities of this very successful global $10 billion business that works with all the key car companies and also to hear that R&D accounts for 10% of their staff team.
The audience also got the chance to see several of Autoliv's airbag products up close and marvel at the engineering of these hidden wonders in our cars.
Thanks to Hugh for giving up his time to deliver the lecture to Society members.