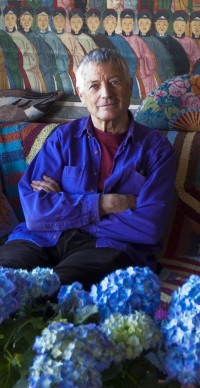 Kaffe Fassett, international textile designer, author and lecturer, discusses inspiration in colour.
This is a joint event with the University of Huddersfield and will be held at its Business School's Jubilee Lecture Theatre at 7pm.
This is a ticketed event and tickets must be booked in advance.
The lecture is free to members of Huddersfield Textile Society and The Bradford Textile Society, as well as to textile students at the University. 140 free tickets are available; they can be ordered before January 31st at the Eventbrite website.
Click here for further details and to book members tickets for the Kaffe Fassett lecture.
Non-members are also welcome to attend and public tickets for the event are available for £10 each (to help cover the costs of staging the lecture).
Click here to order public tickets for the lecture.
About Kaffe:
Born in 1937, Kaffe spent much of his youth in Big Sur, California, where his parents opened the world-famous Nepenthe restaurant, a gathering place for artists and bohemians. After attending a boarding school run by disciples of Krishnamurti, an Indian guru, he studied painting at the School of the Museum of Fine Arts in Boston, then traveled to England, where he made his home.
After an inspiring trip to the Highlands of Scotland, Kaffe began designing knitwear for Bill Gibb, then the Missonis, Vogue magazine and Rowan Yarns, and for private clients like Lauren Bacall and Barbra Streisand; and, in the process, revolutionised the hand-knitting world with his explosive use of colour.
Further explorations led him to needlepoint, mosaics, rug making, tapestries, fabric design, theatre design, and quilting.
He is widely acknowledged as a visionary in the use of color and was the first living textile designer to have a one-person show at the Victoria and Albert Museum in London.
Now in his seventies, Kaffe continues to produce new work and travels worldwide to teach and lecture to his fans. He is the author of more than 25 books, including his autobiography released in 2012 (Kaffe Fassett: Dreaming in Colour).