Join Huddersfield Textile Society for our December Lecture: The Südwolle Story.
Delivered by: Bettina Christensen, Director Technical Yarns, Südwolle Group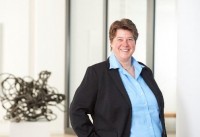 Bettina is a US citizen who grew up around the world: having lived in Germany, Sweden, the UK and the USA.
She finished school in Germany and went on to study Textile Engineering in Reutlingen, specializing in weaving.
She then continued her studies in Kiel. This time in Economics. Before working in the textiles industry, she worked in the food sector in Napa, before then working for a short staple mill for technical yarns in Germany.
Bettina joined Südwolle 8 years ago and is responsible for the technical segment; STOEHR, all over the world.
STOEHR customers cover all sectors, excluding fashion. Some markets their customers operate in are:
PPE (personal protective equipment)
Uniform
Transportation (buses, trains, cars, aircraft)
Upholstery
Technical (billiard cloth, paint rollers, shoes, etc. )
This talk will introduce to us the Südwolle story, and the individual steps involved in producing yarn from sheep, and fabric from yarn.