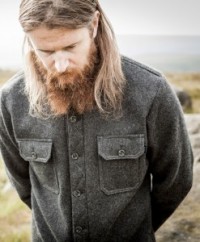 McNair Shirts discuss how they have developed their merino wool Mountain Shirt, which is made in Huddersfield with weaving, milling, raising and steaming all done within a 10 mile radius.
About McNair Shirts
Inspired by the fact that the popular Dachstein mountain gloves are made from felted wool, McNair set out to make a performance shirt from natural fibres instead of the brightly coloured synthetics that are typically used for outdoor clothing.
The company also wanted to demonstrate that it was possible to make a high-quality product in the UK, using a principled and traditional approach.
The result is the McNair Mountain Shirt, which is made from merino wool, carefully processed to improve thermal efficiency and weather resistance, in natural colours.
It is made in Huddersfield and all the work to the fabric - the weaving, milling, raising and steaming - is done within 10 miles of where the shirt is produced.
Members, company employees, students of the University of Huddersfield and members of The Bradford Textile Society are welcome. If you intend to attend, please let our secretary know in advance.