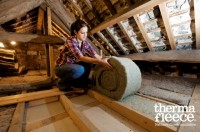 Christine Armstrong, Founder Director of Eden Renewable Innovations Ltd, discusses the use of sheep's wool for insulation in construction projects.
"The health of our buildings greatly influences our general well being, which is why an increasing number of us are realising the benefits of incorporating natural materials such as wool into the building fabric. The homes we live in influence what we hear, what we breathe, what we smell, how warm and cold or comfortable we feel. With this in mind, measures as simple as substituting conventional insulation materials with sheep's wool can make a big difference to the building and its occupants.
The benefits of insulating with sheep's wool go beyond preventing heat loss. As well as being a locally grown, rapidly renewable raw material, wool's ability to absorb and release moisture and lock up some harmful VOC's make it an ideal choice where healthy, breathable construction is key.
Thermafleece insulation is made from coarse coloured wool and comes in a variety of forms. The denser insulation (Thermafleece UltraWool) provides better insulation than less dense and is better for acoustics. It is more expense than standard density wool insulation (Thermafleece CosyWool) so it tends to be used in specialist applications where the thickness of insulation that can be used is limited. For all other end uses where space is not an issue, standard density wool (Thermafleece CosyWool) is used.
Sheep's wool insulation is not always the most expensive option as many people think. Compared to "space age" phenolic foam insulation boards, sheep's wool is not only more cost effective, it also can provide a better performing all round solution."