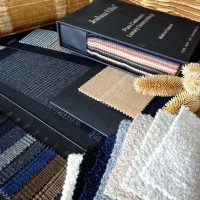 Huddersfield Textile Society's annual visit takes members to the Batley premises of Joshua Ellis Ltd, cashmere weavers and suppliers to global luxury brands.
The tour is only open to Society members and the maximum number of attendees is 20. If you wish to attend, please let our secretary know in advance.
About Joshua Ellis Ltd
Established in 1767, Joshua Ellis boasts a distinguished heritage of British manufacturing with a steadfast reputation for luxury and quality.
Renowned the world over for producing the finest handcrafted cashmere and woollen cloth, Joshua Ellis fabrics and accessories are highly sought after by luxury fashion houses and are exported from the Yorkshire mill to over 23 different countries.
By successfully marrying innovation in design and manufacturing with a commitment to investing in new generations to develop the time-honoured skills that distinguish the Joshua Ellis brand; the company can reflect on its historic past whilst looking forward to an exciting future.