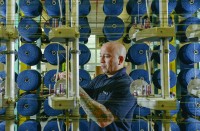 Huddersfield Textile Society's annual visit takes us to the premises of Wooltex UK to see their state-of-the-art interior textiles technical and production facilities.
About Wooltex UK
Based in Huddersfield, Wooltex UK have designed and manufactured textiles since 1996, with a focus on supplying upholstery fabrics for office seating, public buildings and concert halls around the world, together with making fabrics for window blinds.
The company has undertaken its own warping, weaving and mending for some time and added to its capabilities in 2016, when it invested in a state-of-the-art dyeing and finishing facility.
Wooltex has a policy of using local suppliers wherever possible, as it helps to ensure faster high-quality production and minimises costs and carbon footprint.
Please note this event will take place during the day and anyone who wishes to attend should confirm with our secretary in advance.