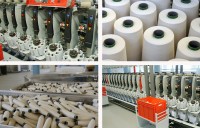 English Fine Cottons at Tower Mill, Dukinfield
Andy Ogden, general manager of parent company Culimeta-Saveguard Ltd, discusses the 2016 launch of English Fine Cottons, the UK's only commercial cotton spinner.
About English Fine Cottons
A desire to reverse the decline in the British textile industry led Culimeta-Saveguard Ltd to embark on an ambitious project to bring cotton spinning back to the UK and to its spiritual home in the North West of England.
It formed English Fine Cottons, which aims to enable UK designers and garment manufacturers to source home-spun superfine yarns and meet the strong global demands for high-quality goods with the 'Made in Britain' stamp.
After several years of planning, English Fine Cottons started spinning cotton in 2016 at Tower Mill in Dukinfield, which has been fitted out with state-of-the-art equipment.
In doing so it became the only commercial cotton spinner in the UK and captured the attention of the public and national media by resurrecting a traditional industry that was once key to the country's economy (at its peak in the 19th century, the British cotton industry boasted 95% of the world's spindle).
Andy Ogden will tell the fascinating story of why and how English Fine Cottons was launched.
Members, company employees, students of the University of Huddersfield and members of The Bradford Textile Society are welcome. If you intend to attend, please let our secretary know in advance.