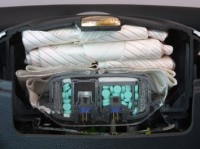 Hugh Finn, Research & Development Manager of Airbags International Ltd, shares his extensive knowledge of high-performance technical textiles and how they are used in airbag technology.
About Airbags International
Airbags International Ltd. designs, develops, and manufactures airbags for automotive personnel safety systems.
Its range includes driver, passenger, curtain, side and knee airbags, all of which use high-performance textiles.
This lecture will see Hugh share some of his expertise in high-performance textiles and showcase his analytical ability, which is founded on coupling his theoretical understanding with keen observation and logical analysis.
Members, company employees, students of the University of Huddersfield and members of The Bradford Textile Society are welcome. If you intend to attend, please let our secretary know in advance.